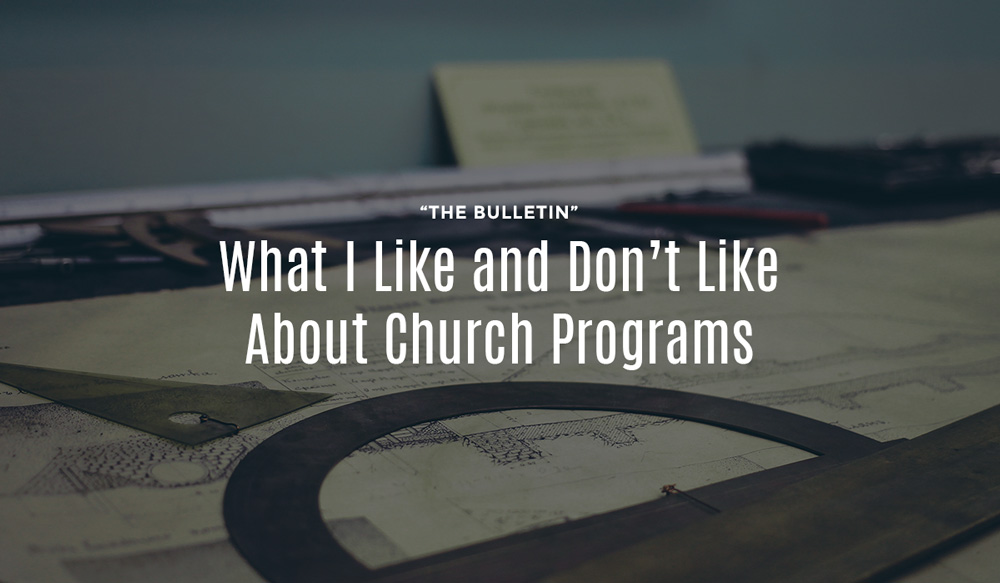 When considering your church program (some may refer to it as a bulletin) and what you should and shouldn't provide within it, I'd ask you also consider the following as I break down my thoughts on what I like and don't like about a few different programs I've gathered over the past few months.
Imago Dei Community • Portland, Oregon
CLICK HERE TO VIEW THE PROGRAM
What I Like
FRONT: Imago Dei has great branding and it's well placed on the front of their program. The program is simple and easy to read. The fonts are contemporary and the design is clean and appears to be well thought out. I like how the series graphic takes up the majority of the page. I also like that there are descriptions about what makes up the heartbeat of their community.
BACK: The website is prominently featured, as is service times and locations. I love that they invite their guests to a Guest Forum after each gathering. Information on where to go or what they can expect out of that forum is easily understood. I'm also a huge fan of the transparency of publishing their current year and month-to-date financials.
What I Don't Like
FRONT: Although they err on the side of simplicity, which I appreciate, I think they've simplified their mission statement too much. I don't like the use of insider language such as "observing the liturgical season of easter." Those not familiar with terms like "missional community" and "liturgical" and "mature in Christ," will easily get lost in the text. They should either explain the meanings or use better descriptors that would be common with those inside and outside the church. Also, the names of those speaking/hosting the services are not important. Those individuals will introduce themselves within the gathering at some point.
Black and white printing is a cheap solution, sometimes upwards of 7 times cheaper than full color printing, but it significantly decreases the end product. I suppose using colored paper to offset the black and white printing is an option, a better option than just black and white, but it's not the best option. If you can afford it, always print in color.
BACK: Again, the half-page program is not beneficial and this proves my point. Information is jammed packed on the back of this program. There is too much text. There is just too much information being shared and it's all insider information. Aside from the invitation for guest to join their forum after the gathering, there are no intentional efforts to connect with the visitor. The back of the program is overwhelming and the reader just gets lost in the text.