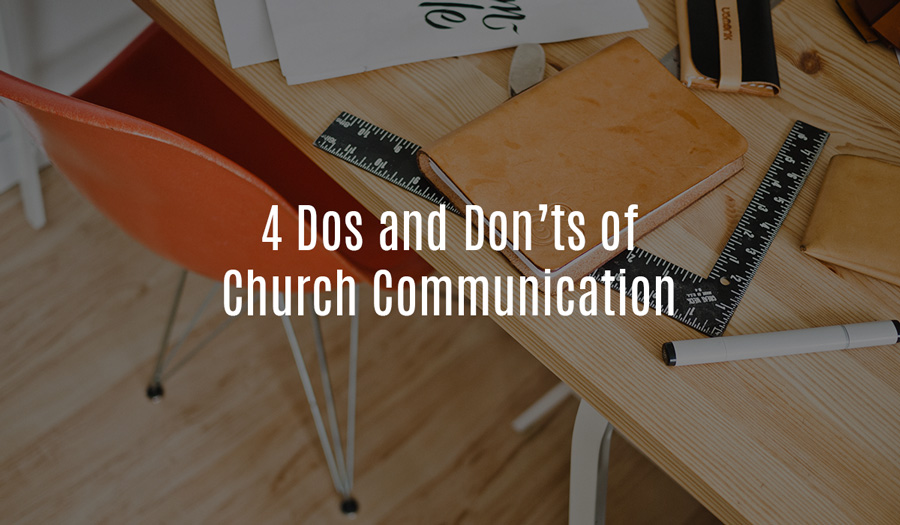 1. Church Program (also know in it's outdated term as the "Church Bulletin")
DO: Create a visually attractive bi-fold program (preferably in color) highlighting the current sermon series (or that week's sermon topic) on the front cover. Make room for a simple paragraph or two informing visitors of what they can expect, where they can take their kids, the different elements of the gathering (communion, singing, message, prayer, etc.) and that you're glad they have chosen to gather at your church. Include three or four all-church activities or important ministry-specific events (like youth camp, kids camp, etc.) – graphics/images and minimal text work best for displaying event information. You'll also want to include contact information and service dates and times.
DON'T: Don't create a multi-fold program (other than bi-fold) or a half-sheet program (unless that's the only piece you are handing out) or any other special fold or cut (that's just wasting time and money). Don't forget to include a graphic of your current sermon series or topic. Don't fill your program with a bunch of non-fundamental text – like church history or specifics on where to take your dish to that week's potluck or directions on how to get to your church even though they are already in your building! Don't add every single event your church has going on and don't include bunches and bunches of text about those events either – keep it to a minimum. Don't include a picture of your pastor. Don't include a picture of his or her spouse. And don't include pictures of the whole staff.
Example: http://www.creationswap.com/media/20482
2. Registrations, Waivers, Forms, and Payments
DO: Provide fillable electronic versions – on YOUR website, never a third party – of all event/activity registrations and any associated waivers or forms. Then, after they've filled the forms out online (on YOUR website), redirect them to your online payment page (most likely the same third party payment system you use as your online giving).
DON'T: Don't provide a paper version of your registration and waiver forms. Most people are, by now, used to filling out that information and making payments for programs and events online. Don't let your youth pastor or children's pastor create their own forms on different websites and platforms or on paper. It looks sloppy and not only are you confusing everyone by sending them to different places (all with different branding and looks) but you're losing all the web traffic you could be gaining by sending people to YOUR website.
Also, don't be fooled into providing paper materials by the very slim minority of people who still refuse to sign up and pay for events and activities online. If they want to pay by check or cash, then that's up to you but don't waste your time and energy by providing print materials.
Example: http://lpcvan.com/music-arts/
3. Website
DO: Create a visually appealing (and simple to navigate) website using a CMS like WordPress – my personal preference and popular among many – or Joomla. Purchase your domain and hosting through Bluehost.com, and search for and purchase a website theme on Themeforest.net. If you don't have staff to create and maintain the website, then hire a third party to create and manage (or train your staff).
Make the home page simple yet informative, including information about your church, your current sermon series, links to giving, podcasts or sermon archives, and contact information and directions. Use mostly images and minimal text to explain different types of ministries, events, and programs your church has to offer. Make your contact information easily accessible. Provide information about staff members (pictures, ways to connect via social media or email, etc.). Create and maintain a staff blog on a consistent basis, which is a free and easy way to bring traffic to your website through search engines.
DON'T: Don't use Clover or ShareFaith or NetMinistry or any other crummy church website creation software that "your grandma could use." Why? Because no wants to visit a website that looks like it was created by your grandmother.
Don't post a ton of useless information that no one wants to read. Don't neglect your staff blog. Don't make it difficult for people to find contact information, service times, or directions, etc. Don't be cheap with your website – it's the first point of interaction with visitors and often times people will or won't visit your church based on your website alone.
Example: http://crossandcrownseattle.com/
4. App and Push Notifications
DO: Create and maintain an app. Most church app creators like Subsplash – my preferred platform – or ShareFaith or ChurchLink have the ability to send push notifications – which statistics show to be the best form of communication. Send an all-church push notification through your app once a week that focuses on the bigger events or programs (or volunteers needed, giving reminders, important alerts) that would affect the majority of your congregation.
DON'T: Don't save money and not create an app for your church. Don't send out push notifications about ministry specific events (youth group meetings, senior outings, etc.) or smaller all-church events. Don't send more than one push notification a week (or keep each push notification at least 5 days apart).